The "Welcome to Fabulous Las Vegas" sign
Mar 12, 2020
History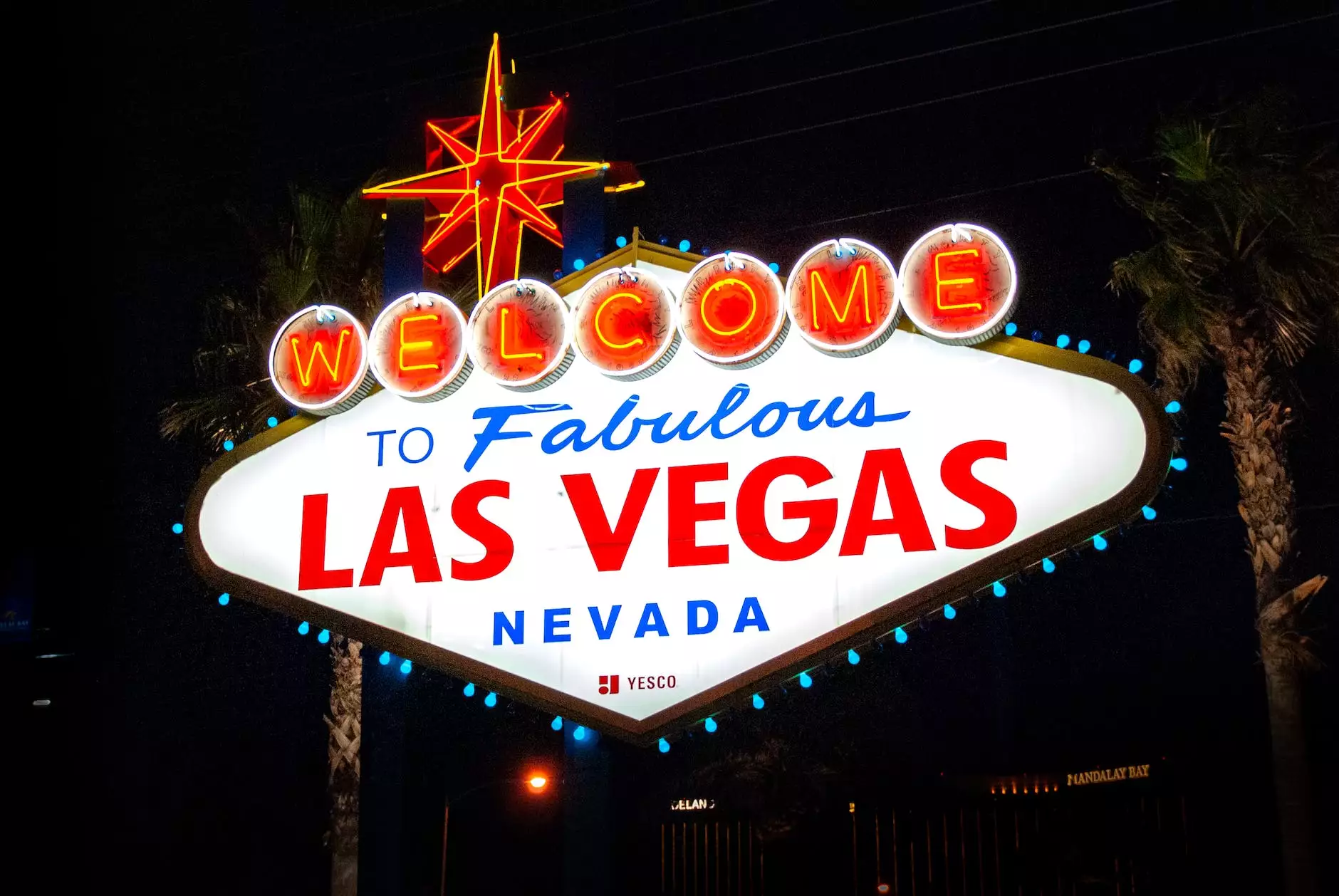 Welcome to the world-renowned city of Las Vegas! One of the most iconic symbols of this vibrant city is the legendary "Welcome to Fabulous Las Vegas" sign. Located at the southern end of the Las Vegas Strip, this sign serves as a shining beacon, greeting visitors from all over the globe.
History and Significance
Built in 1959, the "Welcome to Fabulous Las Vegas" sign is a symbol of hospitality and excitement. Designed by Betty Willis, the sign has continuously welcomed tourists for over six decades. It has become an essential part of the Las Vegas experience, representing the city's glamorous and captivating nature.
The sign is rich in history and has witnessed numerous significant moments in Las Vegas' evolution. From the iconic Rat Pack era to the rise of mega-resorts, this sign has stood as a witness to the city's transformation.
Iconic Design
The "Welcome to Fabulous Las Vegas" sign's design is a masterpiece in itself. The bold and vibrant typography captures the essence of Las Vegas, while the bright red and yellow colors make it impossible to miss. As you stand in front of this sign, you can't help but feel the energy and excitement that the city has to offer.
The sign's diamond shape is a unique aspect of its design. It symbolizes the everlasting allure of Las Vegas, enticing visitors to explore the countless entertainment options available in the city.
Attractions Nearby
While the "Welcome to Fabulous Las Vegas" sign is undoubtedly a must-see attraction, there are other remarkable sites nearby that you should add to your itinerary.
1. Mandalay Bay Resort and Casino
Situated just a short drive away, Mandalay Bay Resort and Casino is a luxurious destination offering world-class entertainment, fine dining, and lavish accommodations. Make sure to experience their renowned Shark Reef Aquarium and catch a mesmerizing performance at the Michael Jackson ONE Theatre.
2. The Las Vegas Strip
No visit to Las Vegas is complete without exploring the famous Las Vegas Strip. Stretching over 4 miles, this vibrant street is lined with legendary casinos, dazzling shows, and high-end shopping. Take a walk along the Strip and immerse yourself in the mesmerizing atmosphere.
3. Fremont Street Experience
If you're looking for a unique and nostalgic Las Vegas experience, head downtown to the Fremont Street Experience. This pedestrian-friendly street is packed with thrilling activities, dazzling light shows, and an array of street performers. Don't forget to try your luck at one of the classic casinos in the area.
Real Estate Services in Las Vegas
If you're captivated by the magic of Las Vegas and considering making it your home, Results Realty is here to assist you. As a leading real estate agency in Las Vegas, we specialize in helping individuals find their dream homes and investment properties in this vibrant city.
Our team of experienced agents has an in-depth knowledge of the local real estate market. Whether you're looking for a luxury condominium on the Strip or a suburban family home, we will guide you every step of the way, ensuring a smooth and successful real estate transaction.
Our Services include:
Residential Property Sales
Commercial Property Sales
Rental Property Management
Investment Property Advice
Market Analysis and Pricing
At Results Realty, we prioritize client satisfaction and aim to exceed your expectations. Our dedication to personalized service and our commitment to excellence have made us a trusted choice for buyers and sellers in Las Vegas.
Embark on your Las Vegas real estate journey with Results Realty and let us help you make your dreams a reality.
Conclusion
The "Welcome to Fabulous Las Vegas" sign captures the essence of the city like no other. Its iconic design and history make it a must-visit attraction for anyone exploring Las Vegas. As you embark on your Las Vegas adventure, be sure to explore the nearby attractions and consider engaging the expert services of Results Realty for all your real estate needs. Let us open the door to your Las Vegas dream.