Trattoria Roma Opening at Petaluma Theatre Square
Jan 5, 2018
Promenade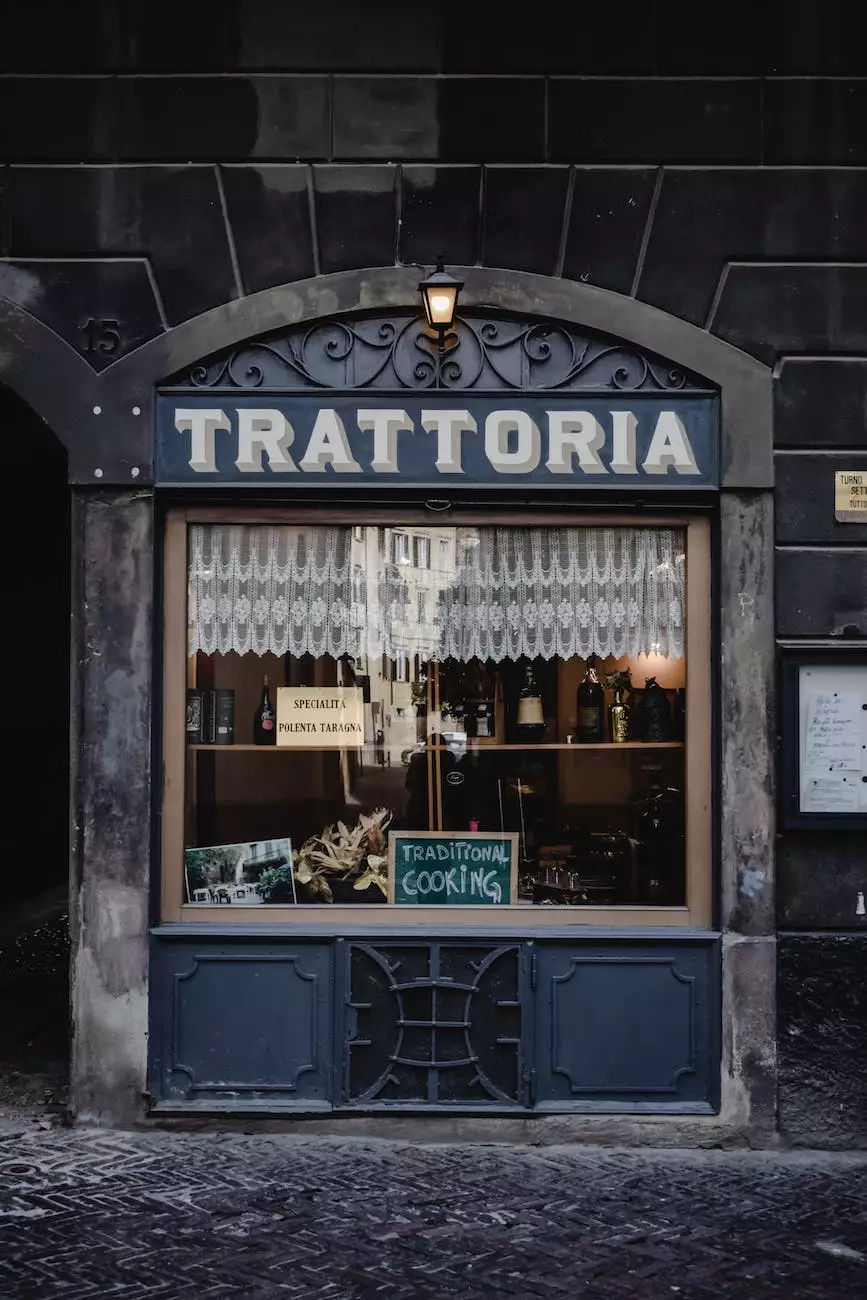 Indulge in the Finest Italian Culinary Experience
Welcome to Trattoria Roma, a new sensation gracing Petaluma Theatre Square. In collaboration with Results Realty, we are thrilled to bring you a culinary adventure like no other. Step inside Trattoria Roma and prepare to be whisked away to the heart of Italy, where authentic flavors and warm hospitality await.
A Gourmet Feast for the Senses
Trattoria Roma at Petaluma Theatre Square features an extensive menu that showcases the best of Italian gastronomy. Our highly skilled chefs painstakingly prepare each dish using only the freshest, locally sourced ingredients. From flavorful appetizers to mouthwatering pastas, pizzas, and tantalizing desserts, every bite at Trattoria Roma is a journey through the rich culinary heritage of Italy.
The Perfect Atmosphere
Step inside Trattoria Roma and be transported to an enchanting space that captures the essence of Italy. Beautifully designed, our restaurant combines rustic charm with modern elegance. Warm lighting, inviting seating, and a relaxed ambiance create the perfect setting for a memorable dining experience. Whether you're enjoying a romantic evening, celebrating a special occasion, or simply craving a delightful meal, Trattoria Roma offers the ideal atmosphere to suit every occasion.
Unparalleled Service
At Trattoria Roma, we believe that exceptional service is as crucial as the quality of our food. Our dedicated staff is committed to ensuring that every guest feels welcomed and well-taken care of. From the moment you enter the restaurant until the time you leave, expect to be treated with genuine warmth and professionalism. Our team is ready to assist you in choosing the perfect wine to complement your meal or offering recommendations based on your preferences.
Special Events and Private Dining
We understand that some moments require an extra touch of elegance. Trattoria Roma offers private dining spaces for intimate gatherings, corporate events, or any occasion that deserves an unforgettable experience. Our dedicated event coordinator will work closely with you to curate a tailor-made event, ensuring every detail is executed flawlessly. Immerse yourself in the magic of Trattoria Roma and create cherished memories with your loved ones.
Join Us at Trattoria Roma
Trattoria Roma at Petaluma Theatre Square invites you to indulge in the beauty of Italian cuisine. Join us as we celebrate the grand opening of our restaurant and become part of our culinary journey. Treat yourself to the finest flavors, impeccable service, and a welcoming ambiance that will transport you straight to Italy. We can't wait to welcome you to Trattoria Roma.
Experience Trattoria Roma Today
Plan your visit to Trattoria Roma at Petaluma Theatre Square and experience the true essence of Italian cuisine. To make a reservation or inquire about our services, please contact our friendly team at Results Realty. We look forward to sharing a remarkable dining experience with you.
Contact Information
Address: Petaluma Theatre Square, Petaluma, CA
Phone: 123-456-7890
Email: [email protected]
Website: http://resultsrealty1.com